FLOW 40
A ductless decentralised HRV system for efficient indoor air exchange with concealed in-wall installation.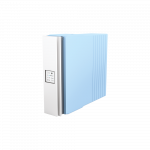 The recessed ventilation system that is there but out of sight
An invisible HRV, which combines excellent air exchange and purification performance with zero footprint: "disappearing" inside the wall, Flow40 does not require piping or false ceilings and leaves only the front cover visible.Single-room ventilation allows you to adjust functions and performance based on the actual needs of each room, ensuring efficient system management and personalised comfort.
TUV certified 91% heat recovery
Indoor air quality control sensors
Recommended retail price from
With Flow40 we can integrate an air exchange system even with no space available for ducting and technical compartments. The ductless design requires no air network adjustment, simplifying the commissioning and long-term management of the system.

Alessio C. - technical manager, F.lli Beltrame
Do you want to receive an offer?
Flow40 offers all the benefits of Heat Recovery Ventilation, simplifying the design and minimising the aesthetic impact, dimensions and maintenance.
Ideal for renovations and energy upgrades
The use of prefabricated components and the absence of air distribution networks makes this wall-recessed HRV system particularly easy to design and versatile to install during residential renovation or energy upgrading.The Flow40 ventilation system can be installed on walls of variable thickness (minimum 335 mm), both with plaster finish and with insulation.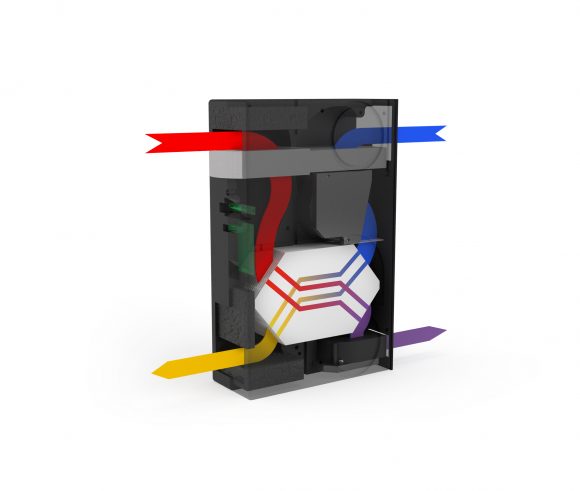 Optimal thermal and acoustic comfort
The special cross-flow enthalpy heat recovery system allows Flow40 to recover up to 91% of the heat contained in the extracted air flow, avoiding the energy losses that would occur with the introduction of cold air. By also recovering some of the latent moisture content, it ensures the intake air is never too dry.
Acoustic comfort is assured thanks to advanced facade noise abatement and sound pressure levels of just 18dB at first speed. The absence of air ducts avoids acoustic bridges and noise transfer between rooms.
Protection against condensation, mould and pollutants
The HRV unit is also equipped as standard with a hygrometer for continuous monitoring of relative room humidity allowing for an automatic and more efficient regulation of forced ventilation to combat condensation and mould.
The CO2 and VOC sensor and monitoring app (available in the Pure version) mean extensive control of indoor air quality at any time of the day.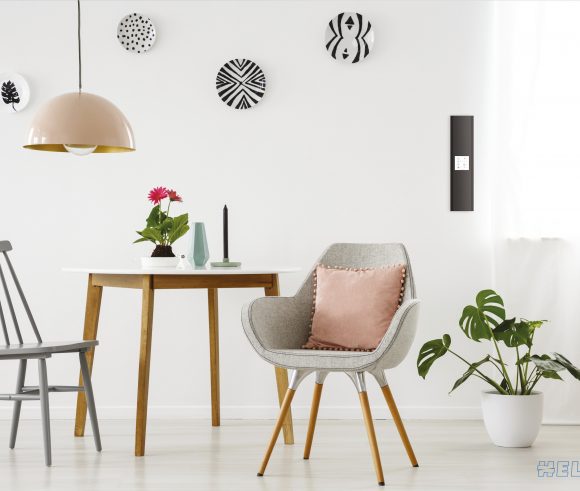 ---
Technical data
Characteristics
U.M.
Value
Airflow
m3/h
10/17/26/37/42 (1)
Airflow adjustment
 
4 settings + high-speed ventilation
Power consumption (2)
W
3.6 - 20.0
Supply voltage
V AC
230
Operating voltage
V DC
24

| | | |
| --- | --- | --- |
| Max. current consumption (3) | A | 0.17 |
| HRV unit weight | kg | 4 |
| Unit dimensions (H x L x P) | mm | 108 x 408 x 268 |
| Preparatory dimensions (H x L x P) |   | 145 x 473 x 517 |
| Heat exchanger |   | enthalpy cross-counter flow |
| Heat recovery efficiency | % | 91 |
| Sound pressure level (4) | dB(A) | 15/20.9/26.3/34.5 |
| Facade noise abatement Dn,e,w | dB | 45 |
| Filters |   | F7+G4 / G2 |
| Energy class |   | A+ / A / E |
| SEC | kWh/m2a | -74.1 / -37.9 / -14.6 |
| Filter replacement alert |   | indicator light on unit |
1. In high-speed ventilation mode2. excluding UV lamp3. With 230 V AC supply voltage4. Measured on a 30 m² semi-anechoic environment at a distance of 3 m
Show all
---
Spare parts and accessories
---
Are you a reseller?
Do you need to discuss a project involving a heat recovery ventilation system? Would you like to evaluate an offer with this innovative system?
Arrange a consultation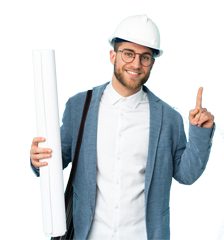 Frequently asked questions
How do I install a concealed CMV, like the Flow40?
Installing a concealed CMV system requires a creating a recess in the perimeter wall where the ventilation system will be positioned, which needs to served by the power supply. The hole dimensions are available in a reserved area.
On which wall thicknesses can concealed CMV systems be installed?
Flow40 concealed CMVs require a perimeter wall with a minimum thickness of 335mm. Flow70 and Flow100 systems require perimeter walls with a minimum thickness of 460mm.
What does 'enthalpy heat recovery' mean?
An enthalpy heat exchanger recovers both the sensible thermal energy (the heat) and the latent energy (the humidity) from the air flow. It has the advantage of offering better overall energy efficiency without over-drying the incoming air.
Read all the FAQs
Certified quality and performance
The performance of the Helty ventilation systems are recognized by the Casa Clima Quality Seal and have obtained the SIMA and BioSafe validations